Canadian Lenders Association publishes a monthly Regulatory Calendar which details all national and provincial level initiative of note as well as recapping historic policy activity. Please review by jurisdiction and law | regulation and see a brief summary of status. Categories include consumer lending, mortgage brokerage and lending and other relevant law | regulation activities of note.
See the updated regulatory calendar for the month of August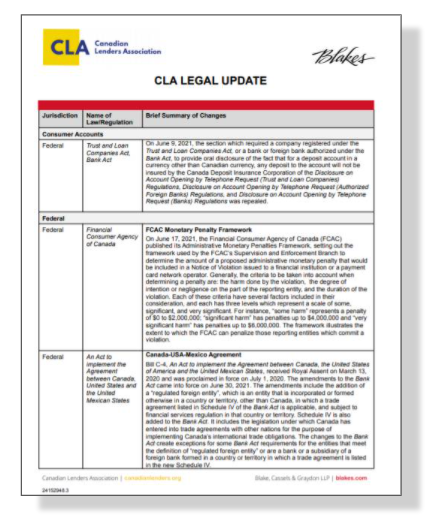 The regulatory calendar is published monthly by the Canadian Lenders Association in conjunction with Blake, Cassels & Graydon LLP. Blakes is a leading Canadian law Firm with offices in Toronto, Calgary, Vancouver, Montreal, Ottawa, New York and London.
Whether you are seeking regulatory advice on a blockchain solution, strategic advice on partnering with a FinTech company or looking to negotiate your FinTech arrangements, Blakes has one of the top-regarded FinTech law practices in Canada, with a multidisciplinary team and deep bench strength. From e-wallets and cryptocurrency to robo-advisers, payment platforms, emerging payments and bitcoin, our Fintech lawyers have a thorough understanding of these and other FinTech products to advise you on their regulation and risk.
Recognized as a leading fintech law firm by Chambers FinTech, Blakes brings together Canada's preeminent technology, financial services regulatory, consumer protection, capital markets, private equity, competition, M&A and intellectual property practices to provide the ideal combination of innovation and experience to guide you through the rapidly evolving landscape of fintech and leverage its opportunities. Having worked with several leading financial institutions and technology companies that have developed fintech products, our lawyers understand the different types of products and applications to meet your strategic legal and business needs.
In 2017, Blakes launched Nitro powered by Blakes, an innovative program that provides access to top-tier legal services for emerging technology companies in the pre-seed to growth stage. The program is overseen by a team of Blakes lawyers and patent agents who have extensive experience working with FinTech start-ups.