Infographic: Travel Point-of-Sale Financing
By David Fry, CEO of Paays.com
The Modern Traveler
On the face of it, the modern traveler seems to have it all. A dizzying array of potential destinations, ultimate price transparency, and an almost infinite ability to configure a holiday to their own personal choices. A decade of advancing technology has turned the modern traveler into their own travel agent. Driving this has been the rise of the OTAs (on-line travel agents) like Expedia and Booking.com, with their huge technology and marketing budgets, the result being the most empowered and informed travel purchaser in history.
But, as with many things in life, the positives sometimes come with a few negative side-effects:
The average traveler now completes 38 searches before making a vacation purchase; affordability determination is the #1 reason cited for travel search
Credit and payments remains the almost exclusive domain of credit cards, even as significant consumer cohorts (millennials, in particular) shun them
Accessibility of travel remains difficult for the credit constrained, yet many inherently have the ability to pay, over time
The combination of these factors suggests that an understanding of affordability in a purchase journey remains a large challenge for travel consumers and merchants, and equally, a tremendous opportunity for change, to the benefit of both.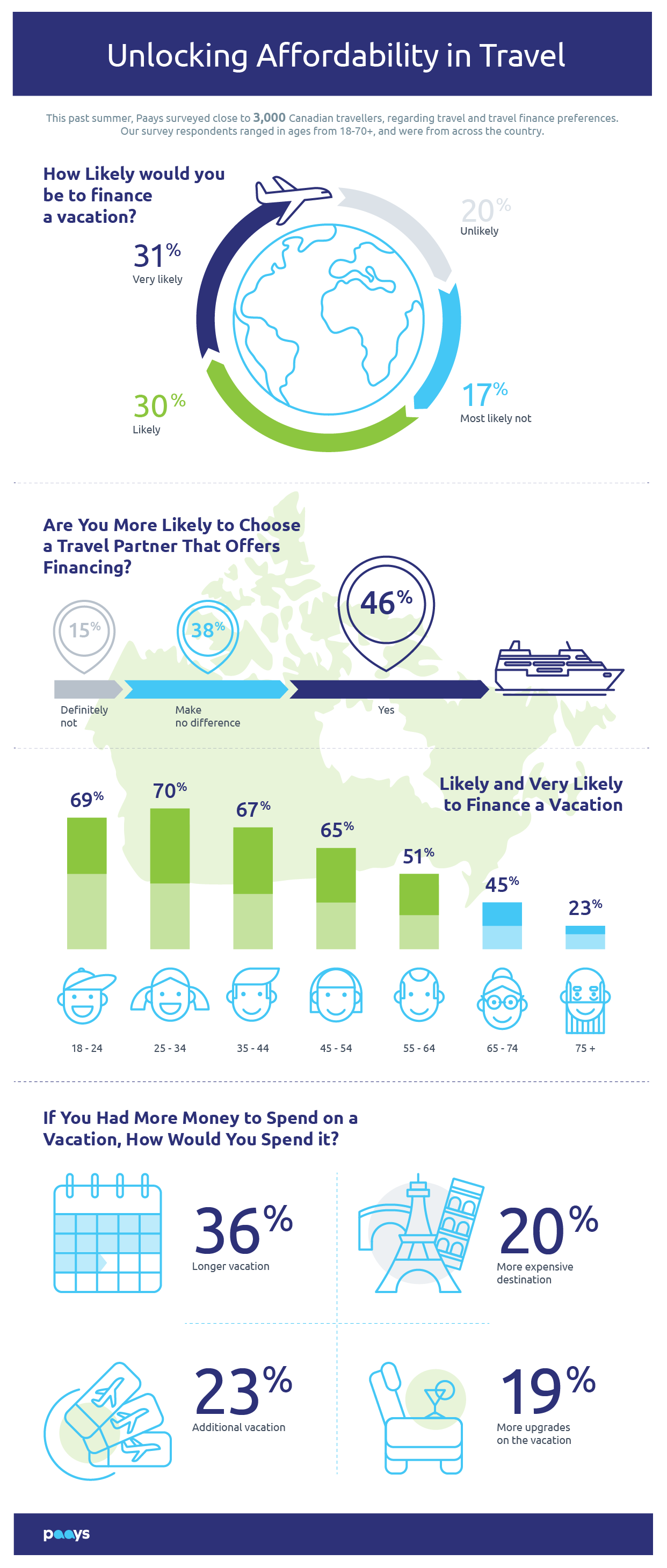 Enter Point of Sale Financing
Point of sale (POS) financing enables consumers to purchase a (typically, big-ticket) item today, and pay for it over time. POS financing has risen in popularity over the past few decades and has become the de-facto manner in which consumers determine affordability and make automobile purchases. Today, auto consumers that are bombarded by ads displaying monthly or bi-weekly payments of up to 84 months, now make a whopping 85%2 of their purchases on the basis of an affordable monthly payment, vs. a lump-sum cash payment up front. And elsewhere, we see POS financing making big in-roads into retail verticals such as home furnishings, appliances, home improvements (HVAC, roof repairs, hot-tubs, etc.), and sporting equipment, all promoting the benefits of flexible financing and creating purchase affordability.
The result of the availability and expansion of POS Financing options has been a significant increase in accessibility of these purchase verticals to consumers who wouldn't have otherwise been able to access these items. Additionally, the provision of interest-rate subsidies in a purchase journey (think zero % offers for autos), has changed the behavior of high-credit-score customers, who would have otherwise made their purchase with cash, and taken an upfront discount on the purchase. This demonstrates that conversions and ticket size (AOV) both rise with POS Financing, regardless of credit type.
Changing Consumer Behavior
While the availability of POS Financing is important, we see strong evidence from other retail verticals that it is vitally important to communicate the availability of this financing, early in the consumer journey. This evidence suggests that "awareness and understanding" of POS Financing availability early in a consumer purchase journey (in advertising and storefront), along the purchase journey as an item is selected (showing a purchase price of an item as a monthly payment option), and finally at checkout as a payment option, creates as much or more benefit than just appearing at checkout as a payment option alone. Changing consumer behavior by getting them to respond to more accessibility and affordability options, requires multiple touchpoints along their purchase journey.
POS Financing Meets the Modern Traveler
So, what does all of this mean for travel? Curiously, for an industry that's approaching $1Trillion of revenue1 we've thus far seen only a very small amount of effort at bringing the benefits of POS Financing to travel. The few data points include Affirm's and UpLift in the US, and AfterPay in Europe and Australia.
Most if not all of these examples are focused on offering POS Financing as a payment option at check-out only. Given what we now know about the modern traveler and their search and purchase journeys, we can see that these existing examples mostly miss on understanding the requirements of these journeys (as discussed above). Most of these examples also fail to provide the majority of the benefits of what POS Financing can offer to merchants, in the form of awareness and understanding early on in the purchase journey, vs at check-out alone, resulting in higher conversion rates and AOV.
The result we believe, is a missed opportunity. Until now.
Conclusion
Integrating flexible financing solutions early into a consumer travel purchase journey to create awareness and solve for the significant pain point of affordability, will produce substantial benefits for the travel consumer, and merchant alike. Travel planning then becomes less about completing 38 searches to determine affordability, and more geared toward narrowing a list of options a travel consumer can afford. Even better that the platform they're using knows a few things about them as well, and isn't bombarding them with 50 or more choices, and instead shows 10 relevant items, that they can afford.
The enablement this provides to consumers in other verticals is undeniable, and we're now on the cusp of being able to realize these benefits in travel, as well.
About Paays
Paays is Canada's first travel finance company. We focus on enabling the travel consumer by unlocking the potential of an affordable monthly payment plan to allow consumers to Travel Now, Pay Later. Paays was founded in 2018, is based in beautiful Toronto, Canada, and has a fantastic team of people dedicated to changing the way that consumers purchase affordable travel. Paays is launching this month in select jurisdictions in Canada, enabling approved borrowers to purchase travel on Expedia, TourRadar, Hotels.com, and 8 other Affiliate Partner websites. Paays will gradually open to consumers in the rest of Canada in the coming months. Given the global nature of travel, and the similarity of pain points for consumers and merchants across the globe, we believe that many other jurisdictions would also benefit from Paays. More information about Paays can be seen at Paays.com.
David A. Fry is CEO and Founder of Paays. David's background includes 18 years of Managing Director and Vice-Chair roles in Origination, Risk, and Senior Management at global banks in London, NY and Toronto. Subsequent to this, David Co-Founded the credit hedge fund Lawrence Park Capital in 2011, and FinTech data and analytics platform Aspire Financial Technologies in 2015, before founding Paays in 2018. David lives in Toronto with his wife and three children, who like him, are all passionate about travel, skiing and golf (in that order!).
Footnotes:
1.    Source: Passport On-line Travel Sales to Residents in Canada; Euromonitor International October, 2017
2.    Source: Q1, 2018. Statista Statistics Portal.
3.    To our knowledge!