Celebrating Innovation at the Canadian Lenders Summit 2018
By Susan Varty for the Canadian Lenders Association
Fast becoming an annual can't-miss event for FinTech, lending and finance professionals, this year's Canadian Lenders Summit was held on November 21 in downtown Toronto, Ontario, Canada. Presented by the Canadian Lenders Association (CLA), and bringing together leading experts from the worlds of Canadian lending and finance, the sold-out Summit provided attendees a day packed full of invaluable opportunities to focus on new and emerging topics in customer experience, blockchain, automation, data and innovation.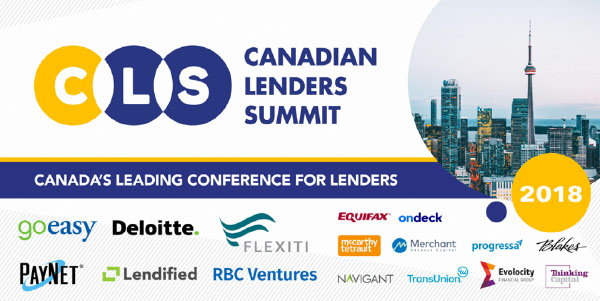 After a welcome from Gary Schwartz (President, Canadian Lenders Association) and Kevin Clark (CLA Chair, Lendified), Tania Ziegler (Head of Global Benchmarking, Cambridge Centre for Alternative Finance) presented a global report with a key highlight about alternative financing in Canada:
"Canada experienced considerable growth in 2017, with market volume up 159% from 2016's $334.5 million to $867.6 million in 2017. It is worth noting that 42% of surveyed firms which reported volumes in Canada were primarily headquartered in the United States, thus reflecting the strong cross-border relationship that exists between FinTech firms in these two countries."
And the buzz in the room from many attendees from the US seemed to prove this point.  Another interesting statistic was that more than 79% of Canadian financial firms have introduced new alternative financing products and crowdfunding is down from 43% to 13% from 2016 to 2017 as the market becomes more "sophisticated".
The morning's keynote followed, given by Mark Ruddock (CEO, 4Finance). Ruddock drew on his more than 20 years of experience in building mobile-first, customer focused businesses to give a dynamic overview of lessons and challenges in innovative lending in Europe, Latin America and Asia that set the tone for the day – especially in data sharing with Telcos. "Telcos have the credit data and are shifting to build their own lending services," said Ruddock. Ruddock also talked about "friction free banking" and how "millennial demands are changing the market and creating significant opportunities" as well.
A mini-presentation and panel about innovative B2B acquisition strategies was next, led by Gladstone Grant (National Director, Microsoft Technology Centres) who said that "customer experience is paramount – above anything else." The panel discussion was about key learnings and successes in B2B acquisition, with discussions about the importance of trust. The panel included Peter Cibula (Linkedin), Ali Pourdad (Progressa), Kevin Clark (Lendified), and Jeff Mitelman (Thinking Capital).
The rise of blockchain and its impacts on the lending space was highlighted in a morning session moderated by Soumak Chatterjee (Blockchain Lead, Deloitte). Offering a deep dive into insights gleaned from key lending use cases, Chatterjee was joined by Sam Kawtharani (CORL), Yash Mody (Plaza Corp), Gary Fearnall (Mortgage Blox), Rahim Vishnu (Swiftsale.com), and Diana Adachi (Silicon Valley Blockchain Society). Adachi emphasized how "blockchain technology can help avoid data loss and create transparency and trust." Mody also helped explain how security-backed tokens in real estate are now being created and how they may be able to provide more stable Initial Security Offerings (ISOs) rather than Initial Coin Offerings (ICOs).
Another mini-keynote and panel discussion followed, this time offering insights from Frank Currie (Head of Customer Engineering for Financial Services, Google Canada) on how lenders can drive return on investment. Currie joined Norm Cappell (Savvyy), Nick Seelert (Senso.AI), and Edwin Fong (Salesforce), in a discussion moderated by Carole Piovesan, Lead in Artificial Intelligence at McCarthy Tétrault. Cappell emphasized how it was "important to track the customer journey in lending to use AI and automation effectively – with customers and staff."
The afternoon was jammed with interactive roundtables on capital-seeking for mid-market lenders, machine learning, and the changing landscape of regulation and technology. It was hard to choose which ones to attend!
A highlight of the Summit was the presentation of the 2018 Innovative Lenders Award, presented by RBC Ventures. The awards spotlight executives and thought leaders who foster innovation that drives the lending industry forward. Mark Lehman (Executive Director, Innovation, Science, and Economic Development Canada, Government of Canada) vetted the nominees, and, from an impressive list of 10 finalists, announced the winner, Borrowell, led by co-founders, Andrew Graham and Eva Wong. They received a gorgeous Tiffany & Co. crystal award and Graham said, "choice is what customers want and we are pleased to be part of the ecosystem." Wong recognized the CLA and said that their support was "instrumental for our success."
After the awards it was right back to sessions. Joe Strolz (Snapchat) sat down with David Fry (Paays), Eva Wong (Borrowell), Michael Wendland (Refresh Financial Inc.), and Wayne Pommen (PayBright) to hear firsthand tips and insights about innovative strategies to drive engagement via social media.
The Great Data Debate was next, moderated by Kirsten Thompson (National Lead of Transformative Technologies & Data Strategy, Dentons), who was recently appointed by Minister of Finance Bill Morneau to the Government of Canada's newly-created Advisory Committee on Open Banking. She was joined by Kris Hansen (KOHO & Portag3 Ventures), Victor Comas (JUDI.AI), Dan Dickinson (EQ Bank), and Dariush Zomorrodi (Blanc Labs) in discussing how we can work toward an open data economy. Strong opinions abounded – with Zomorrodi declaring that "scraping was not open banking."
The last panel of the day was a masterclass in arranging capital for non-traditional lenders, using first-hand insights and learnings from actual transactions with world-class capital providers. Romit Malhotra (Deloitte Corporate Finance) moderated a panel that included Dave Gens (Merchant Advance Capital), Bryan Szemenyei (Canaccede Financial), Rajan Ariyur (Sun Life Financial), James Intermont (Atalaya Capital), Randy Rutherford (ClearFlow Finance), and Rajiv Bahl (Novacap).
The Summit concluded with some final insights from CLA Vice-Chair Jason Mullens (go easy) and a wonderful networking reception hosted by Mark Lehman. Overall, strong topics and themes relating to innovation, blockchain, AI, data, regulatory opportunities and "frictionless" customer experiences resonated with the audience – the people who are there to help build the next generation of lending tools and partnerships.
To register for next year's summit or nominate companies for the 2019 Innovative Lender Awards, please visit www.canadianlenderssummit.com
Susan Varty is Managing Partner of HeadStart Copywriting, the home of unlimited writing and editing for corporate teams.