Truth in Advertising for Insolvency Trustees
Standardization of Public Disclosures 
May 25, 2020, Ottawa – The CLA has serious concerns regarding the recent representations made by certain insolvency trustees on mainstream and social media, either via advertising or through public statements. It is our view that any advertising that encourages consumers to consider bankruptcy as a first course of action – rather than as a necessary last course of action after fully exhausting all other available avenues – is neither a viable nor responsible position to present and ultimately does not put the needs of consumers first. 
We ask the Superintendent of Bankruptcy to: 
rectify the erroneous or misleading advertisements to consumers currently in the marketplace, 

encourage consumers to first liaise with their creditor before visiting an insolvency trustee,  and 

provide the mandate to insolvency trustees to specify advertising and disclosure requirements for insolvency trustees, in a required font size, and in a prominent position in the advertising, which outlines the direct and indirect costs of bankruptcy to the consumer.  
In support of this position, a recent survey conducted in February 2020 by goeasy Ltd., a leading Canadian non-prime lender, found that over 70% of non-prime Canadians had little to no understanding of how bankruptcy and consumer proposals work. Any knowledge gap of consumers of this position requires, in our view, a careful and thoughtful interaction to fully explain the benefits and drawbacks of the decision. 
To illustrate the current truth in advertising challenges that are evident in the Canadian market today, there are several situations to which we wish to draw your attention.  
First, on April 22, 2020, Hoyes, Michalos & Associates appeared in a national, televised interview with Amanda Lang on BNN Bloomberg and made the following statements, which are clearly problematic for a variety of policy and legal reasons.
"The creditors are just taking what they can get, so now it's actually a really good time to file a proposal, because if you offer them something sensible and reasonable."

"People don't realize that they can bank somewhere different from their bank that they owe money to, to keep their income safe" 

"Just stop paying your credit card bills for now. The courts aren't open, the banks can't come after you."
It is the view of the CLA that these statements are inaccurate and suggest to consumers to take actions that may not be in their best interest.  We encourage you to review the full interview, which is available at the following link: . https://www.bnnbloomberg.ca/video/second-wave-of-consumer-insolvencies-set-to-be-massive~1944316.
Second, the content of online advertisements, which essentially encourage declaration of bankruptcy, are concerning to the CLA. To illustrate this point, please see examples below: MNP Debt trustees advertise that debtors can "get a fresh start" and a "brighter financial future" by "declaring bankruptcy." Doyle Salewski Inc. runs a "Live Debt Free" campaign. 

Farber advertises an 80% debt reduction with inaccurately discounting the possibility of asset seizure. Risman Zysman Inc. runs a social media campaign that advertises an 83% debt reduction.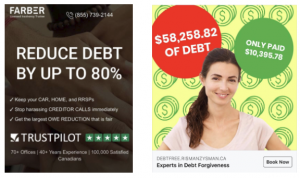 Reduce By Bills not only advertises a 70% debt reduction, but also represents to consumers that this is a "government approved program." While the trustee is licenced by the government, the specific programs being advertised are not specifically approved by the government.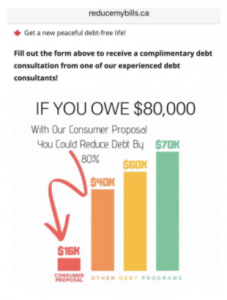 Debt.ca advertises debt relief on Instagram as an award or "qualification."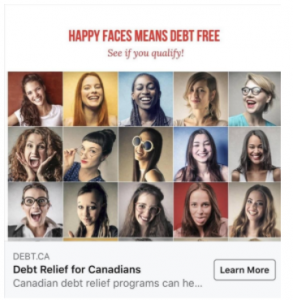 Nowhere in these advertisements do the trustees highlight the implications of bankruptcy, including: a drop in the debtor's credit score, the probability of 5-6 years of no or limited access to credit, and the possibility of asset seizure.
It is the position of the CLA that an insolvency trustee is required, by law, to first explain all debt relief options available to consumers and to uphold the Code of Ethics as mandated by the Office of the Superintendent of Bankruptcy Canada. 
It is our view that it is irresponsible to encourage Canadians, through advertisements, to avoid payment to their creditors as the first resort. CLA members continue to work closely with their consumers to provide loans that are affordable to consumers, given their income and expenses. Our members do not extend credit to consumers that they cannot afford, and we work with our consumers to deal with any payment challenges that they may face throughout the course of their loan.
We believe that there are several key mandated factors for content of advertisements to consumers, including the following:
Trustees should be advising their debtors that bankruptcy can result in:
A credit score drop of an average of 90 points

The possibility of up to 6 years with no access to credit

Trustee fees, the total of which should be fully disclosed, and

Seized assets due to declaration of bankruptcy (for example: house, car, etc.)
Trustees should also advise debtors that:
Consumer proposals are often not accepted by the creditor

Consumers are free to negotiate a repayment plan directly with their creditor(s), without engaging an insolvency trustee.
To achieve these objectives, the CLA is asking for the following action:
For the companies that have made erroneous or misleading statements to consumers to publicly make corrections and clarifications so that consumers in these difficult situations are not encouraged, at first instance, to file for bankruptcy or consumer proposals without all the facts being clearly articulated; 

For insolvency trustees to be directed to instruct consumers unable to pay their monthly fees to first contact their creditor to try to reach a solution before taking any steps in the trustee environment; and 

For the Superintendent to mandate that all trustee advertising to include standard statements of information to the public regarding the consequences of the product or service in a required font size and in a particular area of the advertisement (digitally above the fold).
Canadian Lenders Association (CLA) represents lenders across Canada. The CLA supports the growth of companies that are in the business of lending, or providing other means of credit, to small businesses and individuals using innovative financial technology. The CLA's mission is to provide its members the tools to innovate and foster safe and ethical lending practices. Our lenders comply with strict standards and values detailed at https://www.canadianlenders.org/verified/.  As lenders, the members of the CLA play an important and primary resource to any consumer that requires assistance at any time, including in times of financial difficulty.
Gary Schwartz
President
Canadian Lenders Association
www.canadianlenders.org