CLA Response to the Fall Fiscal and Economic Update
On December 15th, the Minister of Finance, Chrystia Freeland delivered a fiscal and economic update on the state of Canada's economy. In the address, the Minister underscored the importance of "finishing the fight against COVID-19" and outlined some key focus areas for the Canadian economy moving forward.
Lenders should pay particular attention to the monetary policy measures implemented to fight against supply chain shortages and inflation.
This was a real-time budget update that assesses the state of Canada's economy in the face of uncertainty about the impact of the Omicron variant. The government has booked an extra $5 billion in spending this year to prepare for omicron-related potentialities, in addition to $2 billion for treatments, $1.7 billion for rapid tests, and $170 million for better ventilation in schools and community buildings. The government will provide that extra funding while keeping on pace to run a $144.5 billion deficit for this year, a number which is actually $10 billion less than originally forecast in April. The government's deficit-to-GDP ratio is projected to return to a downward track beginning next year. 
Key Takeaways for Mortgage, Automotive and SMB Lenders 
The central bank has renewed the 2% inflation target for the next five-years to help ensure that housing and other prices normalize. In October, inflation in Canada increased to 4.7 per cent year over year, due to pressures on prices of goods (demand related), and supply shortages.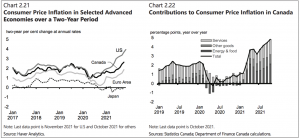 Source: Economic and Fiscal Update 2021, page 25
With regards to supply chain congestion, in 2021-22, the government will launch a new, targeted call for proposals under the National Trade Corridors Fund to help ease these issues and increase cargo storage capacity for Canadian ports. $50 million will be allocated to the assistance of the National Trade Corridors Fund and these supply chain efforts. 
The full report discussed the limited housing supply and significantly higher housing prices, expecting some normalization of housing activity as the pandemic wanes. The government is working to create more supply to ease housing prices, investing over $70 billion through the National Housing Strategy to support the construction of up to 125,000 homes. 
As of October 31, 2021, more than 11,500 loans representing almost $2.7 billion have been provided through The Highly Affected Sectors Credit Availability Program. This program was set to expire on December 31, 2021, but the government is now extending the initiative until March 31, 2022. The report states that the Business Development Bank of Canada will "continue to work with lenders to support access to capital for Canadian businesses of all sizes in all sectors and regions." A concerted effort across the entire lending ecosystem will be require to support SMB over this next two quarters.
The CLA will work with our sector roundtables to discuss the particular impact to lenders and borrowers in Canada. The CLA will continue to advocate for open assess to credit for all Canadians and will continue to advocate that all lending stakeholders in Canada are effectively uses to maintain the flow of needed capital to main-street Canada.
For more details on the government's support for business link here.