Today we have an opportunity to reflect on all the work that has been accomplished to make Canadian financial services a gender-inclusive industry and all the work that has yet to be done. In honor of International Women's Day, we would like to celebrate a few positive developments and highlight areas for future growth. 
CLA member TransUnion's recent diversity report is an excellent example of a company setting a clear, tangible goal—in this case, to reach global gender parity by 2030 in senior leadership and to achieve a year-over-year increase at all levels of management for underrepresented groups—providing a detailed report of their progress.  
In this graphic, TransUnion provides a breakdown of women in senior leadership roles: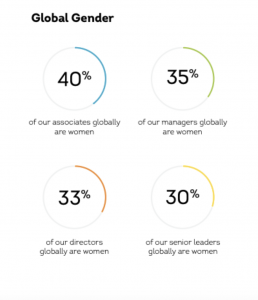 From 2019 to 2020, there was a demonstrable increase in TransUnion's gender parity within their senior leadership, yet there is still room for improvement with regards to managerial positions for underrepresented groups, as shown below: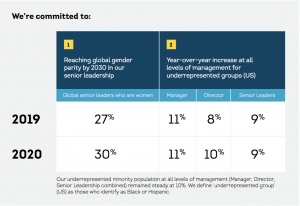 While TransUnion's report indicates that some progress has been made with regards to gender equity in corporate sectors, data from McKinsey suggests that women (especially women of color) are still very underrepresented in leadership roles at financial services institutions. At the beginning of 2021, more than half of employees in entry-level financial services positions were women, but only 27% of C-suite executives were women. Moreover, people of color are 24% less likely than straight, white men to win endorsements for their ideas; Women are 20% less likely, and LGBTQ+ are 21% less likely. Therefore, opportunities to advance beyond entry-level positions are still rarer for women than for their male counterparts. 
In venture capital, women often face unequal compensation. Women in early-career investment roles usually earn salaries and bonuses lower than men in more junior roles. On the operations side, although women make up the majority, they are consistently paid less. Thus, looking at equity purely with regards to representation is insufficient; part of the conversation must also be about compensation. 
The CLA recently published a guide to creating a more gender-inclusive workplace, which can be used by companies across the financial services industry to make adjustments to their business practices. In honor of all women across Canada, the CLA recognizes all the accomplishments of the past year, and looks towards a future of even more positive change.