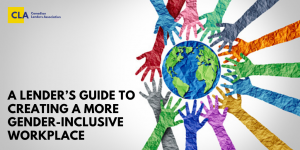 Is your company gender inclusive? 
At the Canadian Lenders Association, we strive to directly address the areas in which the financial services industry still needs growth. Despite progress in recent years with some companies' DE&I strategies (see TD case study below), many workplaces have yet to implement their own strategy for gender-inclusivity. It's time to move beyond mere verbal support of DE&I and commitments to vague standards. While in some respects, general commitment to DE&I can be a helpful signal to potential employees and customers of a willingness to foster a safe working environment, there are more actionable steps that should be taken in order to be congruent with existing regulations and protections. 
In Canada, gender identity, gender expression, and sexual orientation are formally protected under both provincial and federal statutes. The Canadian Human Rights Act explicitly outlines that all private companies regulated by the government must ensure that their employees are treated equally; therefore, companies should institute measures that prevent gender-based discrimination in the workplace. 
Discrimination in the workplace can take several forms: people may experience it directly, indirectly, or systemically. One example of direct discrimination would be refusing to acknowledge an employee by their requested pronoun. Indirect discrimination, on the other hand, can be identified when looking at the holistic context of workplace dynamics. For example, if a transgender employee is provided with less direct mentorship within their workplace over time when compared with their peers. Finally, systemic discrimination can occur when policies are presented as neutral but have a disproportionately negative effect on an individual in a minority group. For example, if workplace bathrooms are separated by the gender binary.  
Here is a brief summary of recommendations to create a more equitable environment for both employees and borrowers: 
Organize virtual meetings through a platform that allows users to change their names upon entry to the call. 

When filling out the "gender" section on forms, members should have the option to write in how they self identify. 

When posting job applications, look at the language and wording to make sure it's not biased or gendered in any way. 

Encourage

all

members of the company to include pronouns in LinkedIn bios, at the start of introductory meetings and email signatures.

Commit to hiring more LGBTQIA+ individuals. Keep metrics around retention and have an action plan in place to directly support each hire. 
One example of a successful DE&I strategy at work in the financial ecosystem is TD Bank. TD outlines its strong commitment to DE&I through six specific focus areas; one of which outlines how the company can best support women in leadership and LGBTQIA+ employees. TD also uses its employee resource groups (ERG) to foster diversity by playing an active role in talent recruitment. 
It's important for companies to treat DE&I as part of their overall financial metrics, and as important as a company's bottom line. Diverse companies make 19% higher revenue on average than homogenous companies, as different perspectives foster innovation. Driving DE&I is more than compatible with helping a company reach its business goals. Start early and stay vigilant.