The Canadian Lenders Association partnered with LendIt Fintech for the recent event, LendIt Fintech USA, which took place at the Javits Center in New York City from May 25-26. Speakers included executives from Chime, Goldman Sachs, Mastercard, Nubank, Visa, FirstBank, and HSBC, among about 350 others. 
After a brief keynote from 100-day-young Mayor of New York, Eric Adams, the event officially kicked off with panel topics that included the complexities of today's financial services industry, the digital future of consumer finance and how fintech companies can continue to foster innovation. 
Activities in the massive Javits Center—which boasts a total interior area of 3.3 million square feet and underwent a $1.5 billion USD expansion in 2021—ranged from presentations on the main stage, fireside chats, 40 minute presentations in breakout rooms, 1:1 networking, and of course, casual conversations amid all the commotion.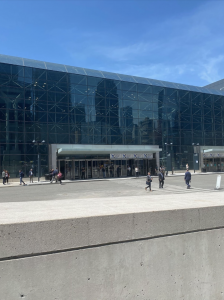 Walking in, I wasn't sure what to expect. (I'm a mid 20s female researcher at the Canadian Lenders Association, and I often find myself on virtual calls with a pretty homogeneous demographic.) I anticipated entering into a mass of finance bros, but was pleasantly surprised by the relative diversity of the vendors. The milieu was younger, hipper and more fun than expected; I even got a compliment on my Pete Rose tattoo.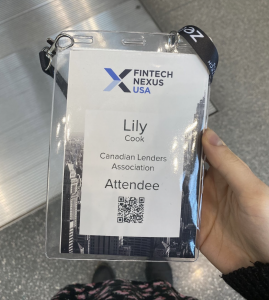 Wandering amid the 4,000+ attendees, it was great to connect in-person with folks from CLA member companies I'd only ever encountered onscreen. Matthew Rider from Flinks told me a few hours into Day 1 that the conference had already been "super productive," and a sales specialist at Brim Financial said they "probably recognized me" from LinkedIn.
I listened to an engaging panel called "Building a Digital Marketplace Bank: The Agility of a Fintech, the Resilience of a Bank," where I learned a lot from the conversation between Karen Webster, CEO of PYMNTS.com and Scott Sanborn, CEO of Lending Club. The conversation centered on retail banking and the small group of fintechs that have become banks to personalize money management for everyday consumers.
At 2pm, I tried to find the Crypto Meetup, but ended up wandering around aimlessly, lost in the cavernous convention center. Probably for the best. I made my way back over to the main stage to check out "The Role of NY DFS in Fostering Financial Inclusion," a conversation moderated by Garry Reeder, CEO at American Fintech Council and Adrienne Harris, Superintendent at NY Department of Financial Services. As a native New Yorker, I'm interested in any policy developments related to my city, so it was cool to see the DFS send a pro-innovation message and want to actively work with budding fintechs.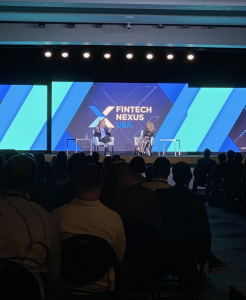 As all the insight from these industry experts percolated in my brain, I wandered over to craft services to refuel. I thought about my next moves while munching on an apple turnover.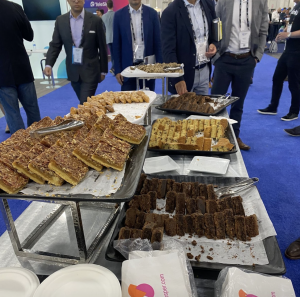 I decided to chat more to the tech vendors, having breezed by most of them in the morning. I talked to Natasha Srinivasan from Plaid and Graeme Rowe from ShuftiPro. I filled my canvas tote with lots of branded freebies, some of which were cool and stylish: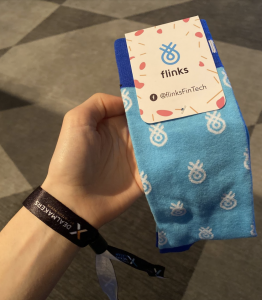 while others may have missed the mark: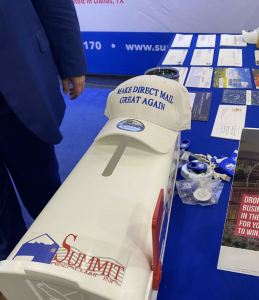 I left the Javits Center after Day 1 with more mints and pens than I knew what to do with, excited to meet up at the Edition in Times Square for an after-hours drinks event with one of the law firms represented. 
On Day 2, I wandered around a sandbox, had a great conversation about DE&I with Shelly Sheppick of the iA Institute, and sat in on "How Fintechs Are Tackling Decades of Financial Inequality," moderated by Mederdith Fuchs of Plaid, about how best to reach underbanked consumers and how increased competition can lead to lower fees to better services.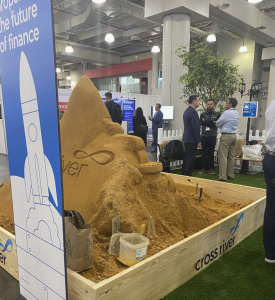 At the end of Day 2, I felt as if I'd run a marathon, even though I'd only been strolling through the Javits Center's air conditioned atrium at a leisurely pace (in sensible shoes, at that). Billed as "New York City's largest fintech event," Lendit Fintech USA 2022 was the first in-person industry event I'd attended since the pandemic. Overall, I learned a ton (about how biometrics can be used in digital identify verification, how to identify 'invisible prime' borrowers, the complexities of open finance, BNPL fraud strategies and more), and met some really cool people. I feel sufficiently warmed up and eagerly anticipate the CLA's upcoming 2022 Lenders Summit.