International Students Contribute C$36 Billion to Canadian Economy
New research from MPOWER Financing estimates that international students contribute C$36 billion to the Canadian economy. The data comes as Ottawa debates changes to its study permit program for international students seeking a Canadian education. 
MPOWER Financing, the leading provider of no-cosigner loans to promising students from around the world, estimates that international students contributed C$36 billion to the Canadian economy in 2022 and are projected to contribute C$42 billion in 2024.
The calculations, based on a 2018 baseline provided by the Canadian government, stem from an Access to Information (ATIP) request from Immigration, Refugees and Citizenship Canada (IRCC) and data from Statistics Canada, among other reputable sources. In 2018, Global Affairs Canada estimated that international students spent $22.3 billion on tuition and living expenses.
The research shows that the primary drivers for increased spending includes: rising international student headcount, rising international tuition fees and rising living expenses across Canada.
International Student Enrollment has Steadily Increased
Since 2018, the number of international students in Canada has risen dramatically from about 600,000 in 2018 to over 805,000 in 2022 – roughly the same as the number of international students in the United States. The 805,000 foreign students on Canadian campuses includes 110,000 students pursuing a master's degree, 214,000 students pursuing an undergraduate degree, 330,000 in a college or CEGEP program and 150,000 students enrolled outside of the post-secondary level.
International students in Canada by level of education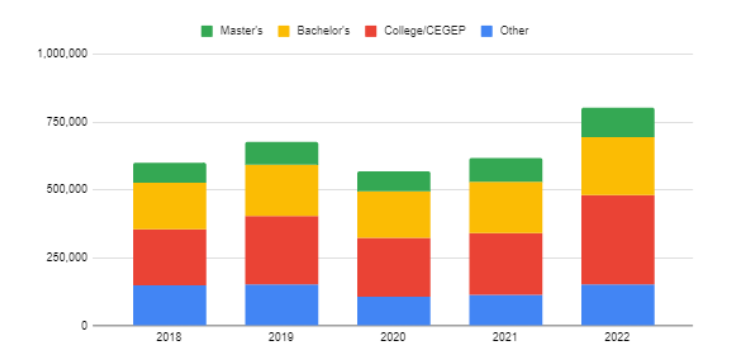 Source: MPOWER Financing, IRCC
Canadian cost of living is a challenge
International students are increasingly flocking to Canada, showing that the nation is attracting young and bright students from around the world, thanks to its excellent schools and hospitable environment. However, the rising cost of living means Canada is losing its relative cost advantage versus the United States.
New research estimates the average international student in Canada spends C$44,000 on tuition and living expenses, only slightly less than their counterparts in the United States. While tuition in Canada remains more affordable, higher living costs mean international students in Canada spend a greater share of educational costs on living expenses. For example, the average international master's degree student in Canada spends the majority of their budget on living expenses, compared with about 40% for their counterparts in the United States.
Total cost of education for an international master's degree student in Canada (C$)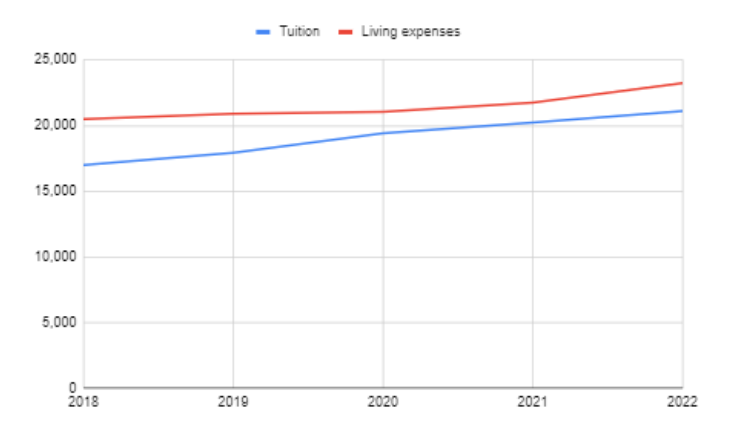 Source: MPOWER Financing, Statcan, the Bank of Canada
This growing economic impact of international students underscores the need for accessible financial solutions. Across Canada and the United States, organizations like MPOWER work with post-secondary institutions to help students from around the world afford a high-quality education. 
A recent survey of MPOWER's students revealed that over 93% believe MPOWER's no-cosigner loan was imperative to their ability to study abroad. This sentiment resonates not only with students but also with educators. A recruitment official at the University of Toronto's Rotman School of Management emphasized, "if it weren't for MPOWER, we would not have the number of African students that we do, which would have effectively reduced the diversity of our international student population." 
As Canada continues to host a diverse and talented international student population, addressing the challenges posed by rising costs remains crucial. This new research underscores the necessity for sustainable financial support mechanisms, ensuring that Canada remains an attractive destination for global learners without compromising their quality of life during their studies.
About the Author
Sasha Ramani is the Head of Corporate Strategy for MPOWER Financing, the leading provider of no-cosigner loans to promising students from around the world. MPOWER works with over 400 top universities across Canada and the U.S. to provide financing to students from over 200 countries. The MPOWER team consists of former international students and provides students with personal financial education and career support to prepare them for their professional careers after graduation. Sasha is from Mississauga, ON and holds bachelor's degrees from the University of Waterloo and Wilfrid Laurier University, and a master's degree from Harvard University.
If your organization seeks to be part of the ongoing innovation in the New-to-Credit sector, here's how you can get involved:

The evolving landscape of the New-to-Credit and New-to-Canada sectors has brought about a multitude of opportunities for lenders to service consumers in new and seamless ways. Engaging with the organizations leading and innovating within the sector and beyond makes the upcoming 2023 Lenders Summit a must attend event. Taking place on November 1st at the MaRS Discovery District in downtown Toronto, the focus of the event will be on networking, partnerships, and driving innovation in the lending sector.
From Banks and Credit Unions to best-of-breed vendors from the fintech ecosystem, the 2023 Lenders Summit is the hub for networking and business partnerships across all consumer and commercial sectors. Main themes include fraud technology, Identity Verification (IDV), financial data solutioning and supporting new-to-Canada and new-to-Credit.